Wednesday, September 4, 2019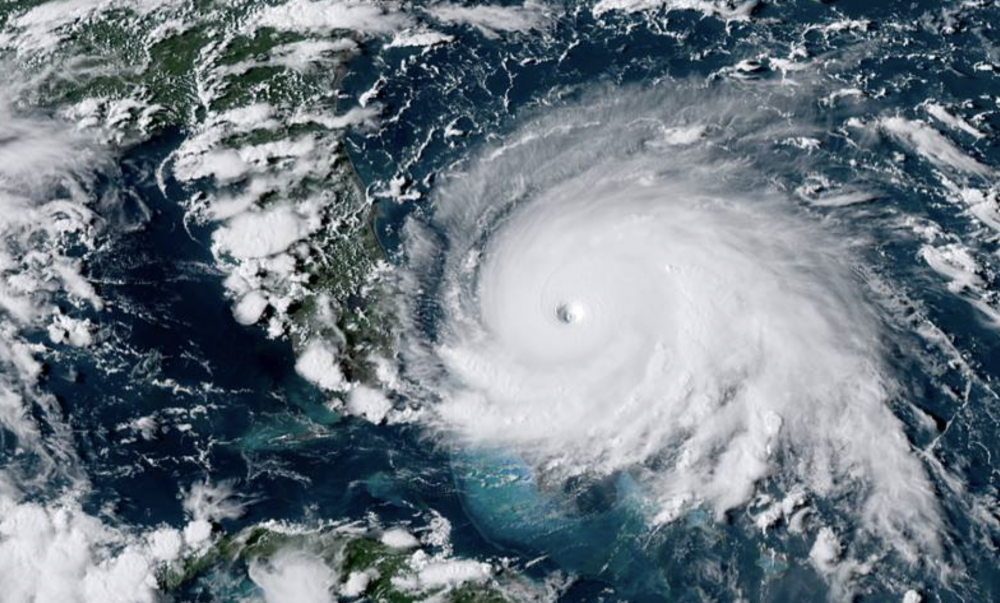 Hurricane Dorian at peak intensity as a Category 5 hurricane making landfall on the Abaco Islands in the Bahamas
(Source: NOAA's GOES-East)
---
Overview
Hurricane Dorian devastated the Bahamas and is threatening Florida and the southeastern United States. For up-to-date information, please refer to the following websites:
How to Give Strategically 
Check out this blog from the Center on Disaster Philanthropy (CDP) on how to give strategically.
Download the CDP's Playbook, which is a compilation of philanthropic strategies, promising practices, and lessons learned that aim at helping philanthropic organizations and individual donors be more strategic with their investments and recognize the importance of supporting long-term recovery for vulnerable populations.
This CDP's blog on Hurricane Dorian offers suggestions for funders both in and outside the path of the storm.
How Philanthropy California Can Support Your Engagement
Philanthropy California – an alliance of Northern California, Southern California, and San Diego Grantmakers – is deploying its deep work in disaster resilience efforts toward:
Sharing what's needed now, emerging issues, where funders can make the most of their contributions.
Publicizing trusted funds for relief and recovery.
Advising how best to meet short and long-term needs.
Connecting funders, government partners, and organizations active in responding to the disaster.
Supporting funders with tools, connections, and expertise.
Please contact Alan Kwok, NCG's Disaster Resilience Director, at [email protected] for more information.
How to Help
The following trusted philanthropic organizations have set up funds to support communities that will be/have impacted by Hurricane Dorian. Check this section often as additional vetted funds may be posted.
Center for Disaster Philanthropy
Geography served: Domestic and international
The Center for Disaster Philanthropy has launched the 2019 Atlantic Hurricane Season Recovery Fund. The fund will focus on needed medium- and long-term recovery needs, which many include rebuilding homes and livelihoods, meeting the needs of vulnerable populations; supporting mental health services; and addressing pressing needs that will arise after immediate relief needs are met. The fund will invest in projects and initiatives that:
Support vulnerable populations whose lives and livelihoods have been devastated.
Emphasize funding that is medium- and long-term in nature, based upon prevailing needs that emerge in the weeks and months after the disaster.
Fill in gaps where public resources are unavailable or scarce.
Foster collaborative relationships among grantees and other organizations.
Direct Relief
Geography served: Domestic and international
Direct Relief provides humanitarian aid across all 50 states and more than 80 countries, with a mission to improve the health and lives of people affected by poverty or emergencies – without regard to politics, religion, or ability to pay. Direct Relief has stationed emergency medical caches – containing everything from first-aid to vital medications for chronic diseases and allergic reactions – throughout Florida, the Carolinas, and the Gulf Coast, and its emergency response team is on the ground, ready to respond as required.
Entertainment Industry Foundation
Geography served: Domestic and international
The Entertainment Industry Foundation (EIF) is accepting donations for the immediate relief and mid-to-long term recovery from this storm at musicforrelief.org/dorian. If you would like EIF to create a custom donation page for your company to send to employees (funds would be contributed to the EIF Hurricane Dorian Fund and donations would be tax-deductible), please contact Roop Sumal, Vice President of Philanthropy and Community Relations, at [email protected] or 424.283.3690.
GlobalGiving
Geography served: Domestic and international
GlobalGiving has set up the Hurricane Dorian Relief Fund to provide disaster relief and recovery services to people impacted by Hurricane Dorian's storm system in the form of emergency supplies like food, water, and medicine, in addition to longer-term recovery assistance to help residents recover and rebuild. All donations to this fund will exclusively support relief and recovery efforts in areas impacted by this storm.
VolunteerFlorida
Geography served: Domestic – Florida
VolunteerFlorida's Florida Disaster Fund is the State of Florida's official private fund established to assist Florida's communities as they respond to and recover during times of emergency or disaster. In partnership with the public sector, private sector and other non-governmental organizations, the Florida Disaster Fund supports response and recovery activities. Funds raised will go toward disaster-related response and recovery. Donations to the Florida Disaster Fund are made to the Volunteer Florida Foundation, a 501(c)(3) charitable organization, and are tax deductible. The Florida Disaster Fund distributes funds to service organizations that will serve individuals within their communities with disaster response and recovery.